This is an important find. I had not heard of this before and I can only find this one article that references it but if the scant figures are to be believed, this is extraordinary. The article – from the County Times is a s follows:
WHAT look like just a few fields close to Presteigne, in fact cover up an 'exceptional' and significant historical site which maps around 5,000 years of Welsh history.

The Walton Basin has been an area of interest to Clwyd-Powys Archaeological Trust (CPAT), who have been carrying out significant excavation work over the last few years to try and uncover the wonders of Welsh history.

One of their earliest findings is from the Neolithic period, where archaeologists believe they have found something that could be as significant as the word famous Stonehenge, on the Salisbury plains.

Chris Martin, regional architect at CPAT, explained that what has been found in the Walton Basin is thought to be a rare Neolithic 'causewayed' enclosure.

Having used some 1,400 mature oak trees in its construction, which has been dated to around 2700 BC, to date this is the largest Neolithic enclosure in Britain, making its finding quite significant.

"It's really quite an impressive structure when you consider that it was 5,000 years ago or so," said Chris.

"We don't actually know what it is for. It seems to be some kind of ceremonial enclosure that was significant to the local population, a religious structure, a meeting place for the community."

Will Adams, curator at the Radnorshire Museum in Llandrindod Wells speculated that one of the enclosures could be as bit as four Millennium Stadiums.

"This could be as important as Stonehenge," he said.

The enclosures may be significant if they are the only ones, however archaeologists are unsure as to whether or not these enclosures exist elsewhere in the country.

Despite this, the site's significance is not in question because of all the other era that can be found there from the Bronze Age, to the Romans.

Mr Martin said: "There is a riot of stuff in a relatively small space, you've got almost an entire Welsh history in this small area.

"It's a mind blowing area and has something for everyone, and there is almost too much to say about the basin. It really is exceptional."

There is currently an exhibition at the Radnorshire Museum on the Walton Basin, and people can watch an interactive video which explains the significance of the site, or it can be viewed at www.cpat.org.uk/vr/llandod/index.htm
A new technique lets archaeologists reconstruct the past in greater detail
THAT economic expansion leads to building booms seems to have been as true 6,000 years ago as it is now. When agriculture came to Britain, it led to a surge of construction as impressive—and rapid—as the one that followed the industrial revolution.
Which is all a bit of a surprise to archaeologists, who had previously seen the arrival of the Neolithic as a rather gentle thing. But that may be because of the tools they use. Radiocarbon dating provides a range, often spanning 200 years or more, rather than an exact date for a site. Stratigraphy, which looks at the soil layers in which artefacts are found, tells you only which ones are older and which younger. None of these data is precise. They do, however, limit the possible range of dates. And by using a statistical technique called Bayesian analysis it is possible to combine such disparate pieces of information to produce a consolidated estimate that is more accurate than any of its components. That results in a range that spans decades, not centuries.
A team led by Alex Bayliss, from English Heritage, a British government agency, has just used this technique to examine digs from hundreds of sites around Britain. The results have caused them to reinterpret the Neolithic past quite radically.
Agriculture seems to have arrived fully formed in what is now Kent, in the south-east, around 4050BC. The new culture spread slowly at first, taking 200 years to reach modern-day Cheltenham, in the west, but over the following five decades it penetrated as far north as Aberdeen. Soon afterwards, causewayed enclosures (circular arrangements of banks and ditches hundreds of metres across—see picture) began springing up all over the country.
Until now, archaeologists had assumed that these were built over the course of centuries. Dr Bayliss's work suggests they were the product of two booms, each just a few decades long—for the Neolithic seems to have seen its share of busts, too.
The team's work offers such a sharp picture of the past that it is possible to trace the histories even of individual communities, such as one in Essex whose inhabitants built, used and then abandoned an enclosure within the span of a single generation.
English Heritage now plans to apply the technique to another murky era of British history, the early Anglo-Saxon period between 400AD and 700AD. In principle, the method can be applied to any archaeological site, and several groups of researchers around the world are working on similar projects. But, fittingly for a discipline that deals in centuries and millennia, the revolution will be a slow one. Unlike traditional radiocarbon dating, which can be bought off the shelf, Dr Bayliss reckons it takes between three and four years to train a graduate researcher to use the new technique properly.
READ ORIGINAL ARTICLE AT THE ECONOMIST
Hill in Wiltshire school grounds nicknamed Silbury's little sister revealed as important neolithic monument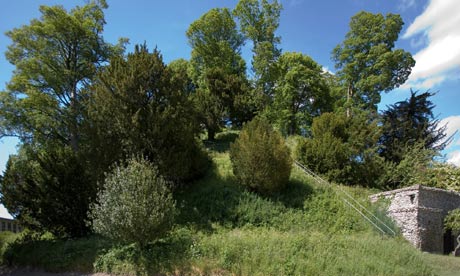 For generations, it has been scrambled up with pride by students at Marlborough College. But the mysterious, pudding-shaped mound in the grounds of the Wiltshire public school now looks set to gain far wider acclaim as scientists have revealed it is a prehistoric monument of international importance.
After thorough excavations, the Marlborough mound is now thought to be around 4,400 years old, making it roughly contemporary with the nearby, and far more renowned, Silbury Hill.
The new evidence was described by one archeologist, an expert on ancient ritual sites in the area, as "an astonishing discovery". Both neolithic structures are likely to have been constructed over many generations.
The Marlborough mound had been thought to date back to Norman times. It was believed to be the base of a castle built 50 years after the Norman invasion and later landscaped as a 17th-century garden feature. But it has now been dated to around 2400BC from four samples of charcoal taken from the core of the 19 metre-high hill.
The samples prove it was built at a time when British tribes were combining labour on ritual monuments in the chalk downlands of Wiltshire, including Stonehenge and the huge ditches and stone circle of Avebury.
History students at the college will now have the chance to study an extraordinary example just a stone's throw from their classroom windows. Malborough's Master Nicholas Sampson said: "We are thrilled at this discovery, which confirms the long and dramatic history of this beautiful site and offers opportunity for tremendous educational enrichment."
Article continues at THE GUARDIAN …