While on the Scottish leg of filming Standing with Stones, Rupert and I came up with a little analogy which we hope illustrates the problems and dangers of interpretation when dealing with our ancient megalithic sites. Templewood – part of the Kilmartin Glen megalithic complex – seemed an ideal spot to slip it in. Hope it makes sense to you!
Click the image to go to original artist Stevyn Colgan's website.
The layout of Stonehenge matches the spacing of loud and quiet sounds created by acoustic interference, new theory claims
READ ORIGINAL STORY AT THE GUARDIAN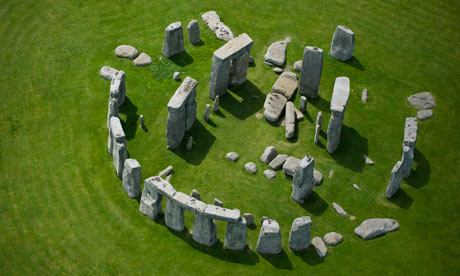 The Neolithic builders of Stonehenge were inspired by "auditory illusions" when they drew up blueprints for the ancient monument, a researcher claims.
The radical proposal follows a series of experiments by US scientist Steven Waller, who claims the positions of the standing stones match patterns in sound waves created by a pair of musical instruments.
Waller, an independent researcher in California, said the layout of the stones corresponded to the regular spacing of loud and quiet sounds created by acoustic interference when two instruments played the same note continuously.
In Neolithic times, the nature of sound waves – and their ability to reinforce and cancel each other out – would have been mysterious enough to verge on the magical, Waller said. Quiet patches created by acoustic interference could have led to the "auditory illusion" that invisible objects stood between a listener and the instruments being played, he added.
To investigate whether instruments could create such auditory illusions, Waller rigged two flutes to an air pump so they played the same note continuously. When he walked around them in a circle, the volume rose, fell and rose again as the sound waves interfered with each other. "What I found unexpected was how I experienced those regions of quiet. It felt like I was being sheltered from the sound. As if something was protecting me. It gave me a feeling of peace and quiet," he said.

Auditory interference pattern created when two instruments play the same note continuously Link to this audio
READ MORE AT THE GUARDIAN …