READ ORIGINAL ARTICLE AT THE GUARDIAN
A new walking path links Britain's two greatest prehistoric sites, Avebury and Stonehenge, and is as epic as the Inca Trail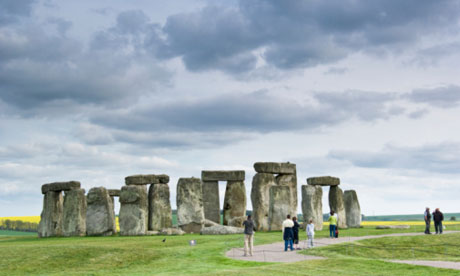 The Great Stones Way is one of those ideas so obvious it seems amazing that no one has thought of it before: a 38-mile walking trail to link England's two greatest prehistoric sites, Avebury and Stonehenge, crossing a landscape covered with Neolithic monuments.
But like any project involving the English countryside, it's not as straightforward as it might seem. The steering group has had to secure permission from landowners and the MoD, who use much of Salisbury Plain for training. They hope to have the whole trail open within a year, but for now are trialling a 14-mile southern stretch, having secured agreement from the MoD and parish councils. The "Plain & Avon" section leads from the iron age hill fort of Casterley Camp on Salisbury Plain down the Avon valley to Stonehenge. Walkers are being encouraged to test the route, and detailed directions can be found on the Friends of the Ridgeway website.
It's an area all but the boldest have avoided: negotiating the MoD areas needed careful planning. Few walkers come here and not a single garage or shop along the Avon valley sells local maps. The Great Stones Way should change that.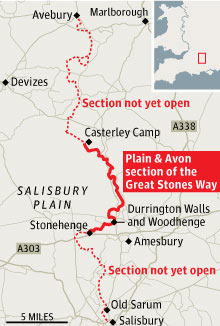 What makes the prospect of the Great Stones Way so exciting is the sense that for more than a millennium, between around 3000 and 2000BC, the area it crosses was the scene of frenzied Neolithic building activity, with henges, burial barrows and processional avenues criss-crossing the route.
At Casterley Camp, high on Salisbury Plain, it takes me a while to realise what is strange about the landscape, as wild and empty as anywhere in southern England, and with a large burial mound directly ahead. Then it hits me: this is perfect high grazing country, but there's not a single sheep. Maybe they have read the MoD notice which points out that "'projectile' means any shot or shell or other missile or any portion thereof", and that over much of what you can see you're liable to be hit by one. You can also be arrested without a warrant. But the trail cleverly and legally threads its way past the firing ranges towards a delightful and ancient droving road that plunges down between cow parsley to an old farm.
Five minutes in we are passed by a lone woman wearing Dolce & Gabbana sunglasses and heading determinedly towards the shooting area, where the red flags are up to signify that it's a "live" day. In a Kensington and Chelsea accent, she tells us that she regularly drives down from London as it's one of the few places "where you don't run the risk of meeting anybody else". I murmur that this might be because they know they'll get shot at. "Oh, I love all that. It gets my endorphins going. I got back to the car once and found it ringed by military police. When I told them that I just enjoyed the walking, they didn't believe me. They said, 'How can you claim to enjoy walking when you don't have a dog?'"
One animal practising its duck-and-cover technique here is the remarkable great bustard, recently reintroduced to the UK after its local extinction two centuries ago. At 40lbs, the male bird is one of the largest flying animals in the world, so it's unmistakable even for the most hesitant birdwatcher. As we reach an isolated farm building, we pass a Land Rover full of enthusiasts heading off to track some down.
The trail curves below to cross and then follow the Avon, a river that loomed large in the affairs of Neolithic man. It was along the Avon that the bluestones of the Preseli hills in Wales are thought to have been transported by boat to Stonehenge, after being moved an almost unimaginable distance around both the Pembrokeshire and Cornish peninsulas to the river mouth at Christchurch.
ORIGINAL ARTICLE CONTINUES AT THE GUARDIAN …
Here is a nice long clip from the DVD – all about henges. It just so happens that the most important of them occur within a quite small distance from one another in the South of England. Now, the two sites in the film that actually have the word 'henge' in their name turn out to be NOT true henges in the sense that the word has come to be accepted. As is shown in the film, although the word originally derives from the name 'Stonehenge', it turns out that Stonehenge itself is an anomaly amongst 'henges' and does not now count as one – strictly speaking. Woodhenge 'may' have been a henge – but was so named long before it was discovered that the post holes that make up all that is now visible of the site was surrounded by a raised mound. As for places like 'Seahenge' for example – well, it becomes clear that the tag 'henge' is  easily used by the media to indicate that a new discovery – whether of rock, wood or earth – is a pretty ancient one.
This section of the film gave me an opportunity to go to town with CGI (Computer Generated Imagery) and do my best to produce some watchable reconstructions of how the sites MAY have looked. The two 'true' henges that are featured – Avebury and Stanton Drew – really are wonders. Avebury is, of course, the most visually spectacular of the two today, but as Rupert and I found out more about what was lurking beneath the soil of the farm field that the stone circle of Stanton Drew inhabits, so our imagination was spurred and led to a surprising idea about their purpose. So, I'm not going to spoil it for you now, but let me just say that, however radical our thoughts may seem, they did not come from nothing. Our main suggestion is supported by evidence from other sites and most notably by Mike Pitts observations about the excavations at Durrington Walls in his book 'Hengeworld'. Most of all though, it was the privilege of spending time at these places – being present to their grandeur and scale as a human being that gave rise to our speculations. And speculations is all they are. We don't pretend to have any answers – we're not experts – but we do hope that a little "thinking outside the box" can inspire ideas that really do crack the mystery of these wonderful places.
I absolutely cannot recommend this website enough if you have the slightest interest in the magnificent site of Avebury Henge.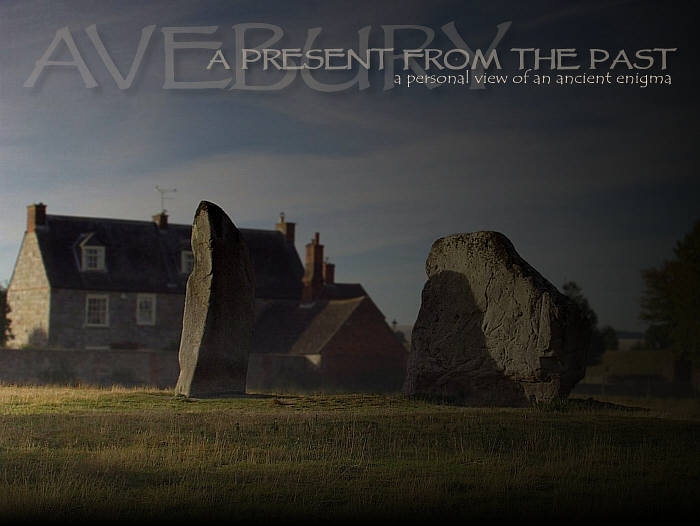 If there's anything – anything at all you need to know about Avebury then go here NOW! The site is beautifully presenrted, and as a bonus to all the information available here, there is also a complete facsimile edition of William Stukely's 'ABURY – A TEMPLE OF THE BRITISH DRUIDS' online.