A new technique lets archaeologists reconstruct the past in greater detail
THAT economic expansion leads to building booms seems to have been as true 6,000 years ago as it is now. When agriculture came to Britain, it led to a surge of construction as impressive—and rapid—as the one that followed the industrial revolution.
Which is all a bit of a surprise to archaeologists, who had previously seen the arrival of the Neolithic as a rather gentle thing. But that may be because of the tools they use. Radiocarbon dating provides a range, often spanning 200 years or more, rather than an exact date for a site. Stratigraphy, which looks at the soil layers in which artefacts are found, tells you only which ones are older and which younger. None of these data is precise. They do, however, limit the possible range of dates. And by using a statistical technique called Bayesian analysis it is possible to combine such disparate pieces of information to produce a consolidated estimate that is more accurate than any of its components. That results in a range that spans decades, not centuries.
A team led by Alex Bayliss, from English Heritage, a British government agency, has just used this technique to examine digs from hundreds of sites around Britain. The results have caused them to reinterpret the Neolithic past quite radically.
Agriculture seems to have arrived fully formed in what is now Kent, in the south-east, around 4050BC. The new culture spread slowly at first, taking 200 years to reach modern-day Cheltenham, in the west, but over the following five decades it penetrated as far north as Aberdeen. Soon afterwards, causewayed enclosures (circular arrangements of banks and ditches hundreds of metres across—see picture) began springing up all over the country.
Until now, archaeologists had assumed that these were built over the course of centuries. Dr Bayliss's work suggests they were the product of two booms, each just a few decades long—for the Neolithic seems to have seen its share of busts, too.
The team's work offers such a sharp picture of the past that it is possible to trace the histories even of individual communities, such as one in Essex whose inhabitants built, used and then abandoned an enclosure within the span of a single generation.
English Heritage now plans to apply the technique to another murky era of British history, the early Anglo-Saxon period between 400AD and 700AD. In principle, the method can be applied to any archaeological site, and several groups of researchers around the world are working on similar projects. But, fittingly for a discipline that deals in centuries and millennia, the revolution will be a slow one. Unlike traditional radiocarbon dating, which can be bought off the shelf, Dr Bayliss reckons it takes between three and four years to train a graduate researcher to use the new technique properly.
READ ORIGINAL ARTICLE AT THE ECONOMIST
Work to create new visitor centre and make road improvements could start next year after financial announcements by ministers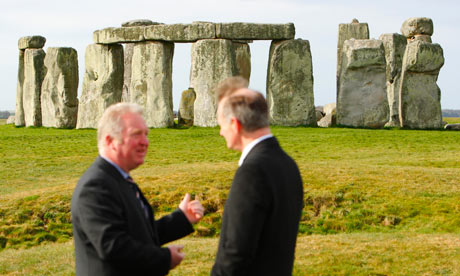 READ AT THE GUARDIAN The on-off saga of sorting out the roads around Stonehenge and building a proper visitor centre seems to be back on track after ministers announced two important measures which could mean work finally starting as early as next year.
The closeness of the A344 to the stones near Salisbury, as well as the visitor facilities described by the public accounts committee in 1993 as a "national disgrace", have long been a problem in need of fixing. Government funding for the latest project was axed as part of £73m of savings announced by the Department for Culture, Media and Sports in June.
The heritage minister, John Penrose, said the government was giving English Heritage the permission it needs to access £2m from its historic reserves of £8m. That is money given philanthropically over the years and the DCMS said its use represents "the government's commitment to philanthropic support for major cultural projects".
Penrose said the way Stonehenge – listed by Unesco as a world heritage site in 1986 – had been presented to the public had been "woefully inadequate. Decades of dithering and indecision have got us nowhere."
He added: "It was bitterly disappointing when the country's dire financial state meant we had to withdraw government funding for the visitor centre here last June. But I – along with English Heritage and my colleagues across government – have been committed to finding other ways to support the project. The fact that we have now almost secured private funding is an example of the 'big society' in action, with everyone working together to ensure a mix of funding solutions."
The £27.5m project already has £10m of lottery money in the pot as well as money which English Heritage has made in profit from its commercial activities and fundraising. Today's announcement means there is now just £3m to raise – a sum English Heritage is confident of getting to allow work to start in 2012.
ARTICLE CONTINUES AT THE GUARDIAN …
English Heritage have launched a wonderful website completely devoted to English prehistoric Rock Art. Going by the acronym ERA (English Rock Art) the site has been established in order to
" … promote greater enjoyment of rock art; inspire new understanding of this intriguing archaeological material; encourage direct involvement with the recording process; and inform effective management and conservation of a unique cultural resource."
At the moment, the site seems to concentrate mainly on sites in the Northumberland area but new discoveries seem to be coming in fast and the aim is to extend the database to cover all of England. Some of the photography is truly inspired and it is worth a visit just to browse the imagery.
Rupert and I certainly wish we'd been aware of some of the newer discoveries before we set out to film Standing with Stones. However, we did love the art at Achnabreck and Cairnbaan.